Jake Mintz
FOX Sports MLB Analyst
The Phillies looked like a team of destiny. 
For the second straight year, the brotastic, high-energy, dinger-knocking circus paraded over the National League East champion Braves in the NLDS. And after two games in the LCS, the Phillies looked primed for another trip to the Fall Classic. Then the 84-win Diamondbacks pulled their pants down on back-to-back nights at Citizens Bank Park and the magic was suddenly over. A team of destiny that wasn't. In an instant, the vibes went from glorious to disastrous.
And now the page turns to winter. Thankfully, one of the Phillies' biggest offseason questions already appears answered. President of baseball operations Dave Dombrowski told reporters at last week's GM meetings that Bryce Harper would be the club's first baseman moving forward. Harper started 36 games at first in 2023 after a Tommy John surgery limited his throwing arm to begin the season. That means a reunion with Rhys Hoskins, previously the team's longest-tenured position player, is extremely unlikely. Hoskins tore his ACL in spring training and was close to a return when Philly got bounced by Arizona. Throwing out the first pitch in the club's wild-card opener was likely his farewell.
With the first base conundrum sorted, the Phillies now turn their attention elsewhere as they embark upon another crucial winter. With two straight NLCS appearances in the rearview, expectations in the City of Brotherly Love are now trophy or bust.
1. Is Philly going to run back the lineup after the way things ended?
The Phillies are MLB's only contender set to return their entire 2023 lineup; all nine starting position players are still under contract for 2024 (and 2025). Heck, even the Braves need a new left fielder. But just because the Phillies can run it back, doesn't mean they absolutely will.
Dombrowski isn't called "Dealer Dave" for nothin'; the veteran exec is rarely quiet when it comes to roster construction. And considering how Philly's season ended, there's an argument that copying and pasting the offensive group into '24 isn't the most optimal strategy. 
Rookie center fielder Johan Rojas was a revelation in 2023 and held his own in 149 regular season at-bats, but struggled mightily against top competition in October. The Phillies could spell Rojas with a veteran corner outfielder that splits time between left field (Brandon Marsh could move to center on those days) and the bench. Tommy Pham, Adam Duvall and Jason Heyward are all viable options.
2. Will the Phillies re-sign Aaron Nola or go after a replacement?
Nola is one of the most successful pitchers in franchise history. He's seventh in games started, fifth in strikeouts and fifth in WHIP. Nola is also one of the most dependable pitchers in modern baseball, a true innings sponge in an era of truncated starts.
But after failing to agree to an extension with the only club he's ever known, Nola is a free agent for the very first time. And with his track record of reliability, the 30-year-old looks set to receive a hefty payday that might surpass the $200 million dollar range. That the Phillies and Nola reportedly never got close on a number is extremely telling, and though Dombrowski has stated that re-signing their No. 2 starter is a top priority, the smart money is on Nola donning a new uniform in 2024.
That would leave the Phillies with a hole in the rotation. Simply, they need somebody who can start Game 2 of a playoff series. Thankfully, it's a strong winter for starting pitching and the Phils should be in the market for Sonny Gray, Yoshinobu Yamamoto and Jordan Montgomery if they don't retain Nola. 
3. How do the Phillies reinforce the bullpen?
Even though the Phillies signed Craig Kimbrel on a one-year deal last winter, their 2023 ninth-inning plan was supposed to be a mix-and-match strategy. Then Kimbrel got hot and secured the closer job midway through the season. That turned out to be a poisoned chalice, with the 35-year-old potential Hall of Famer biffing back-to-back high-leverage opportunities in the NLCS.
As a whole, the Phillies bullpen was much improved in 2023, even if it still lacks a trademark closer heading into '24. Don't expect Dombrowski to pony up the Benjamins for all-world closer Josh Hader, who looks set to secure the largest relief contract in MLB history. The Phils appear content to rotate Jeff Hoffman, José Alvarado, Seranthony Domíngez and Orion Kerkering around in the later innings. They probably need one more back-end arm — Jordan Hicks and Reynaldo López are two free agents that fit Philly's love of high-velocity relievers — but it's unlikely they acquire a capital-C closer.
4. How real are the Nick Castellanos trade rumors?
Somewhat real. It's doubtful to happen, but there's definitely some legitimacy to the Castellanos trade talks.
They'd never admit it, for obvious reasons, but the Phillies would probably take the chance to deal Castellanos and the three years, $60 million remaining on his contract if they found good value. Castellanos is a vibe lord, a local cult hero and a key cog of the clubhouse, but there's no denying the South Florida native has underperformed in the first two years of his five-year contract.
His 2023 (29 homers, a .788 OPS, meh defense in right) was better than his 2022 (13 homers, a .694 OPS, horrendous defense in right), but the soon-to-be 32-year-old was still near the top of baseball in categories like chase rate and whiff rate. And that swing-happy approach got exposed big time in the NLCS once the D-backs adjusted their pitching plan, as Castellanos finished the series with a brutal 0-for-23 stretch.
Nick Castellanos hits two home runs to help Phillies defeat Braves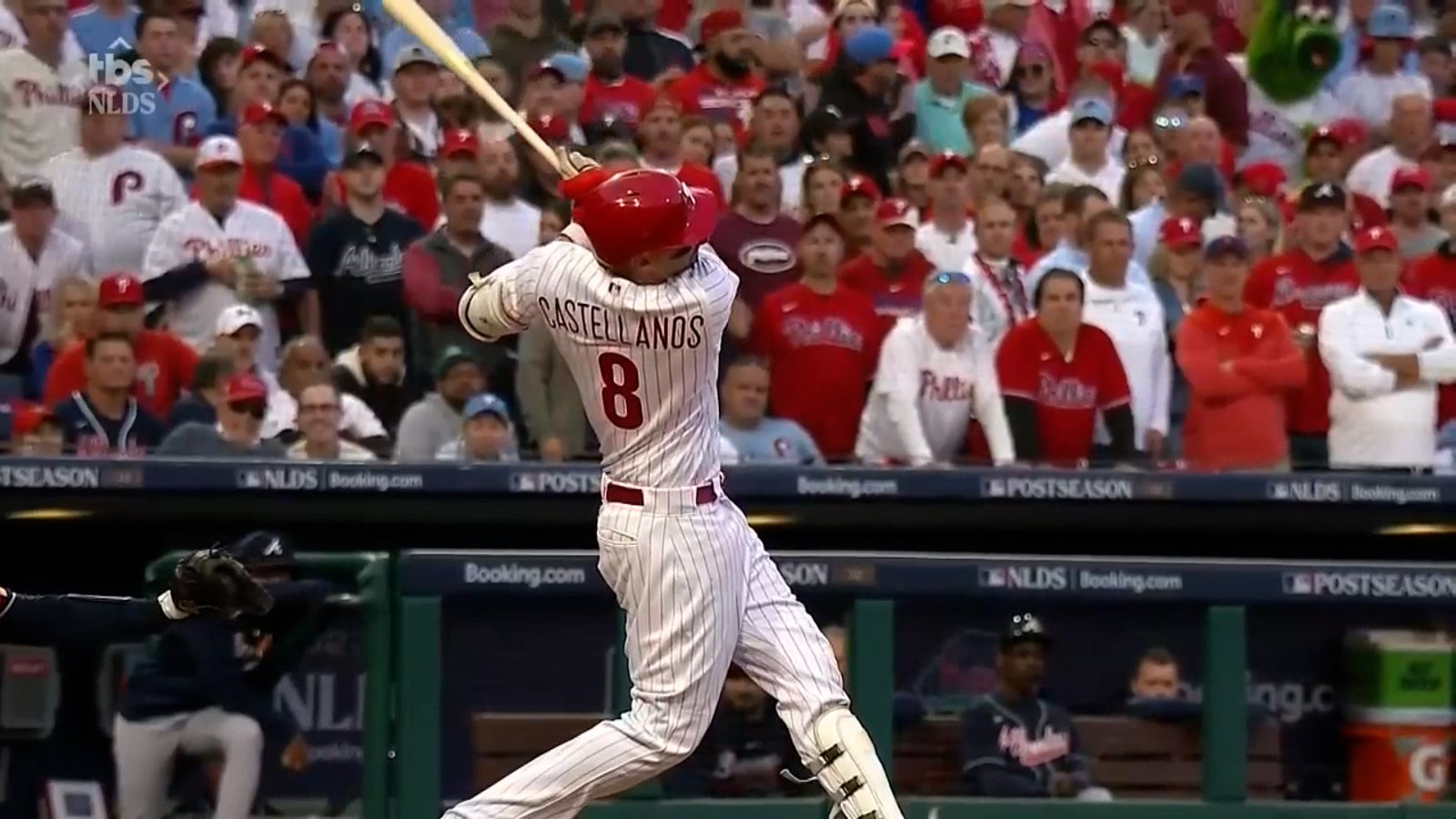 Still, it's extremely unlikely that Castellanos will be moved. His value is at a low right now, considering how his season ended. His bulky contract means only a handful of teams have the payroll space to make a deal work. And the Phillies know Castellanos was an All-Star level hitter just two years ago with the same aggressive approach that's limited his production in red pinstripes. Never doubt Dombrowski's willingness to deal, but expect Casty to be Philadelphia's starting right fielder on Opening Day.
5. How do they supplement the bench?
Jake Cave made the final out of the Phillies' season. The 30-year-old lefty has had a respectable career, but posted an adjusted OPS 31% below league average in 2023. Philly's season ending with Cave was indicative of a larger issue: its lack of offensive depth.
Edmundo Sosa is a dependable utility infielder, while Garrett Stubbs, despite a bad offensive season, is well-liked and a sufficient backup for J.T. Realmuto. But the rest of the Phils bench needs improvement: Non-Sosa hitters had a .597 OPS in 852 plate appearances. Every year, players get hurt and replacements get playing time. How well reserves perform can be the difference between a wild-card spot and a division title.
Jake Mintz, the louder half of @CespedesBBQ is a baseball writer for FOX Sports. He played college baseball, poorly at first, then very well, very briefly. Jake lives in New York City where he coaches Little League and rides his bike, sometimes at the same time. Follow him on Twitter at @Jake_Mintz.
Flippin' Bats:
---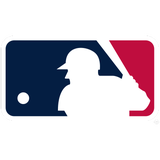 Get more from Major League Baseball Follow your favorites to get information about games, news and more
---