We're nine weeks into the NFL season. Some of our pre-existing expectations have been validated; others have been dashed entirely. As we sit roughly halfway through the 2023-24 campaign, we have a good idea of which players are in line for awards — and which teams will contend for the Super Bowl. Our experts made their selections for awards from MVP to Coach of the Year — and selected the teams they think are likeliest to face off in Super Bowl LVIII next February.
MVP: Chiefs QB Patrick Mahomes
Runner-up: Eagles QB Jalen Hurts
David Helman: Patrick Mahomes has some work to do if he's going to win his second straight MVP and his third overall. Nine games into his 2023 campaign, Mahomes is 500 yards and eight touchdowns off his pace from last season. He's also on pace to throw more interceptions this season.
At the same time, he's still the league's best quarterback, playing for the reigning champs. Maybe most importantly, few of his primary competitors for the award are distancing themselves from the pack. For all the concern about the Chiefs, they're tied for the best record in the AFC and are on pace for 13 wins. Mahomes ranks near the top of the league in all the pertinent quarterback metrics — including advanced ones like EPA, success rate and completion percentage over expected.
By virtue of leading one of the league's best teams, Mahomes is going to be on the short list. If he can establish a more consistent rapport with at least one of his receivers — whether it's Rashee Rice or someone else — he's got as good a shot as anyone to take home the hardware again.
Henry McKenna: Tyreek Hill will need to start elevating his offense against the best teams in the NFL, because his case as MVP grows weaker every time the Dolphins come up short. That said, it's important to note just how important Hill is to the Miami offense. Much like teams build their offense around their quarterback, you can see the ways in which Mike McDaniel has built his offense around Hill. 
Yes, Tua Tagovailoa fits the system. But McDaniel has largely tweaked it to get the most out of Hill. And it's working. He has 69 catches for 1,076 receiving yards and eight touchdowns this year. He has the individual numbers. The second half of the season will be about Giant Hunting for the Dolphins. Hill can't win MVP if Miami doesn't start beating the NFL's best teams.
Nick Wright updates his QB tiers
Defensive Player of the Year: Vikings edge rusher Danielle Hunter
Runners-up: Steelers edge rusher T.J. Watt, Browns edge rusher Myles Garrett
Carmen Vitali: Danielle Hunter is in a contract year and he knows it. He and the Vikings failed to get a long-term deal done before the season but they did get a new one-year contract in place. It's worth up to $20 million with incentives and you had better believe Hunter is going to get every penny. 
Through nine games, Hunter leads the league in tackles for loss with 12 and until Maxx Crosby's three-sack performance on Sunday, Hunter also led the league in sacks. He has 10, which is half a sack shy of his season total last year. He's been the beneficiary of an extremely aggressive defensive system under newly arrived coordinator Brian Flores, which puts Hunter on pace for 19 sacks this year. That would best his single-season high by 4.5 sacks and make Hunter the most coveted pass rusher set to hit free agency in 2024. 
It's especially impressive when you consider Flores' system wasn't necessarily firing on all cylinders in the first few weeks of the season. It's been a process — one that is continuing to trend upward. But Hunter has been effective anyway, even without Marcus Davenport opposite him. Davenport, who was brought in to be the other bookend on the defensive line, has only played in four games this year. Hunter doesn't seem affected and if he keeps this pace up, it'd be hard to not consider him for Defensive Player of the Year when the time comes.
Joshua Dobbs leads unreal Vikings comebacks against Taylor Heinicke, Falcons
Ralph Vacchiano: There's a pretty good case to consider T.J. Watt for Comeback Player of the Year, even though he was a Pro Bowler last season. Watching him now, it's almost easy to forget that he missed seven games last year with a torn pectoral muscle and needed knee surgery too. That was all a big factor in his career-low 5.5 sacks.
This season, he passed that total in Week 3.
He was the leader out of the gate for the DPOY award with three sacks in Week 1 and six in those first three games, and while he's slowed down since, his numbers are still impressive. His sack on Sunday gave him 9.5 for the season, putting him among the team leaders. But he does so much more than that. He wasn't just one of the top-graded edge rushers by Pro Football Focus. He was one of the top-rated edge defenders against the run and in coverage too.
In the end, he might not lead the NFL in sacks when the season is over. But add his one interception, his six passes defensed, his two forced fumbles and three fumble recoveries and it's clear that no NFL defender does more. 
Offensive Player of the Year: Dolphins WR Tyreek Hill
Runner-up: 49ers RB Christian McCaffrey
McKenna: We're back on this guy (Hill). And that's because the Dolphins can't go away from him. QBs tend to win MVP, which is why Hill looks like the perfect candidate for this award. I mentioned his stats in the MVP section. I mentioned how much of the Dolphins offense is built around Tyreek. He is the best receiver in the NFL at a time when the passing offense is king. And he's on pace to set NFL records.
Greg Auman: When the 49ers acquired Christian McCaffrey from Carolina last year, one of the biggest questions was his durability, as he'd played a total of 10 games in the previous two seasons. So it's all the more remarkable how reliable he's been with San Francisco since arriving — having now scored touchdowns in 17 straight games, including three in the playoffs.
He entered the weekend leading the NFL with 652 rushing yards and ranked second with nine rushing touchdowns, adding another 292 yards receiving and four scores there. The 49ers have dealt with injuries to their best players, but he's been a steady foundation for a top-five NFL offense.
McCaffrey has done this before, but he's on pace to top 2,000 yards from scrimmage, something only he and Tyreek Hill are on course to do this season. He had a ludicrous 2,392 yards from scrimmage at his peak in Carolina in 2019, but this is getting close to that level of all-purpose dominance.
So much of the narrative across the NFL is the devaluing of the running back position, from draft position to free-agency contracts, but McCaffrey is a rare exception. He's almost halfway through a four-year, $64 million deal that makes him the league's highest-paid back, but he's one of the few elite backs making a strong case they're earning their paychecks.
Tyreek-Tua, Jags, Eagles, Lamar Jackson highlight Colin's midseason superlatives
Offensive Rookie of the Year: Texans QB C.J. Stroud
Runner-up: Rams WR Puka Nacua
Ben Arthur: Less than two years after trading Deshaun Watson, the Texans have already found another franchise quarterback in C.J. Stroud. The former Ohio State star should be the frontrunner for this award. 
His 470-yard, five-touchdown performance Sunday to lead the Texans to a thrilling victory over the Buccaneers is the biggest highlight so far of what is pacing to be one of the best rookie quarterback seasons in NFL history. Among all qualified QBs this season, he currently ranks first in interception rate (he has just one pick this year!), third in yards per attempt, fourth in passer rating, sixth in EPA per dropback and seventh in passing yards and touchdowns. Stroud's play is keeping the Texans in playoff contention this year. Before the season started, NFL observers believed Houston was at least another year away from being truly competitive. The Texans are easily beating that timeline.
C.J. Stroud is ascending as a rookie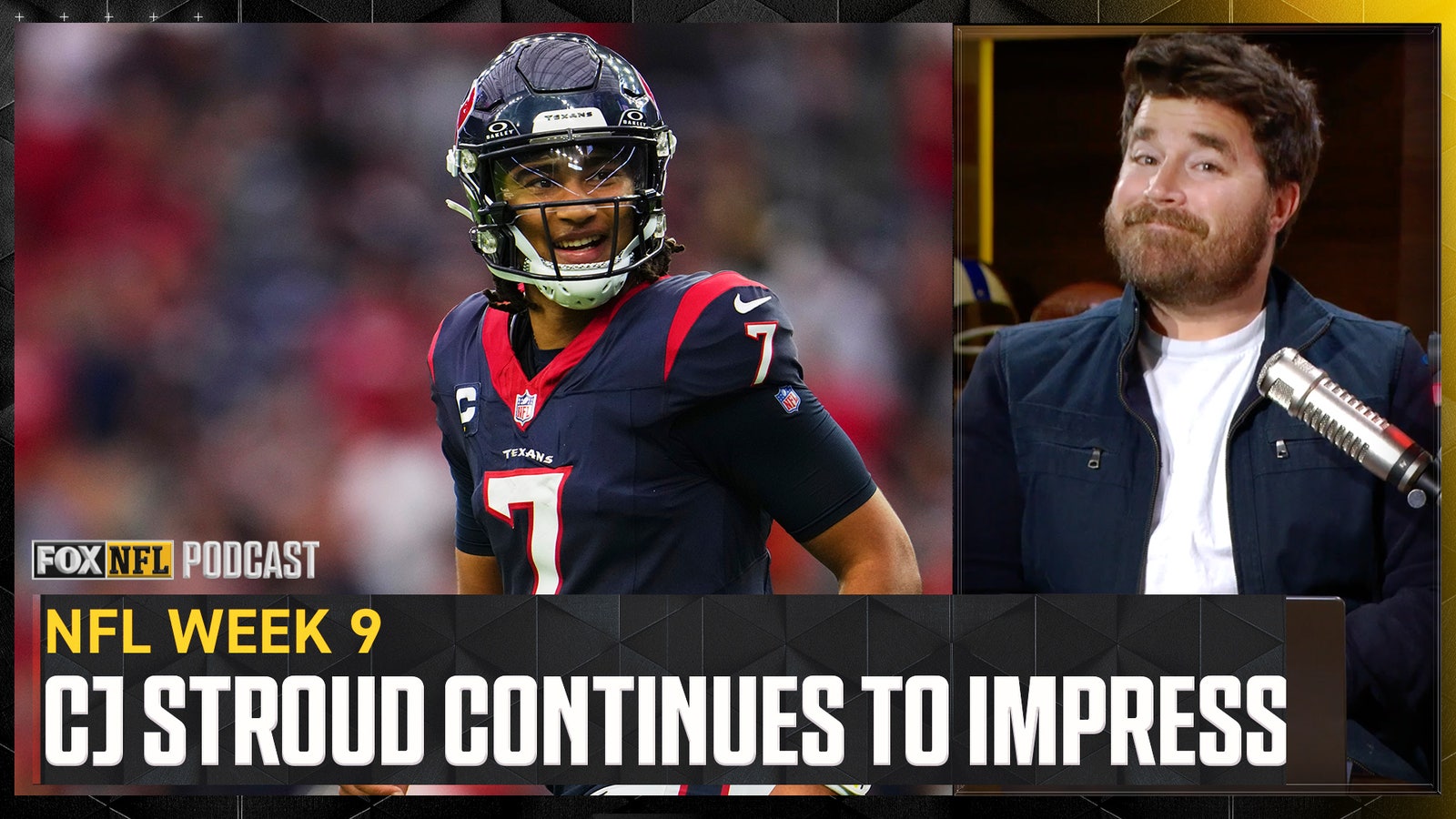 Eric D. Williams: Following in the footsteps of Cooper Kupp, the Rams appear to have found another diamond in the rough in Puka Nacua. Selected in the fifth round of this year's draft out of BYU, Nacua is fourth in the league in receiving yards (827), tied for fourth in receptions (64) and third in targets (96).
Nacua already passed Kupp's franchise record of 62 receptions set in his rookie year of 2017, with eight games remaining in his first NFL season.
Through hard work and repetitions this offseason, Nacua quickly earned the trust of quarterback Matthew Stafford with his ability to consistently make contest catches in tight windows. And he's shown the ability to make plays with the ball in his hands. Nacua's 338 yards after catch rank second in the league. 
Defensive Rookie of the Year: Eagles DT Jalen Carter
Runner-up: Seahawks DB Devon Witherspoon
Ralph Vacchiano: Everyone knew this was coming. That's the worst part for the rest of the NFL. In the run-up to the draft, most NFL people seemed to agree that Jalen Carter was the best defensive player in the draft. It was a nightmare for all of them to watch him slip to the Philadelphia Eagles at 9. And sure enough, he's lived up to the hype, because not only has he been the best rookie defender, he's been one of the best defensive tackles in the entire league.
Carmen got into the metrics and evaluation; they're all the more impressive since he missed one game with an ankle injury and has been bothered by a back issue the last few weeks. He's also getting a lot more attention from offensive lines despite the Eagles' loaded defensive line.
His teammates think he's only begun to scratch the surface of his talent. If he gets healthy in the second half, he may run away with this award.
Carmen Vitali: I was told before the season by an NFC defensive line coach that there "is no NFL comp for Jalen Carter," and so far, he's right. Carter went to the exact right situation in Philadelphia, with multiple Georgia teammates on a defense with established leadership — and he is flourishing. As an interior defensive lineman, Carter has four sacks through eight games. According to PFF, Carter is the second-highest-graded defensive tackle league-wide and he's tied for fifth in the NFL in pressures of any kind with 28. Carter has also forced two fumbles. 
He's been the most immediately impactful defensive rookie and I don't think it's particularly close. Will Anderson has just one sack for Houston as an edge rusher. Devon Witherspoon is doing great things in Seattle, with two sacks as a corner and an interception, which all came in the Seahawks' game against the Giants. He hasn't been quite as consistent as Carter so far. The only other defensive player drafted before Carter was Tyree Wilson, and he's been extremely quiet in Las Vegas. Meanwhile, Carter looks like a vet — and a unique one at that — which makes me think by the end of the season he'll have run away with this award. 
'How about that defense?' – Jalen Hurts after Eagles' late-game win over Cowboys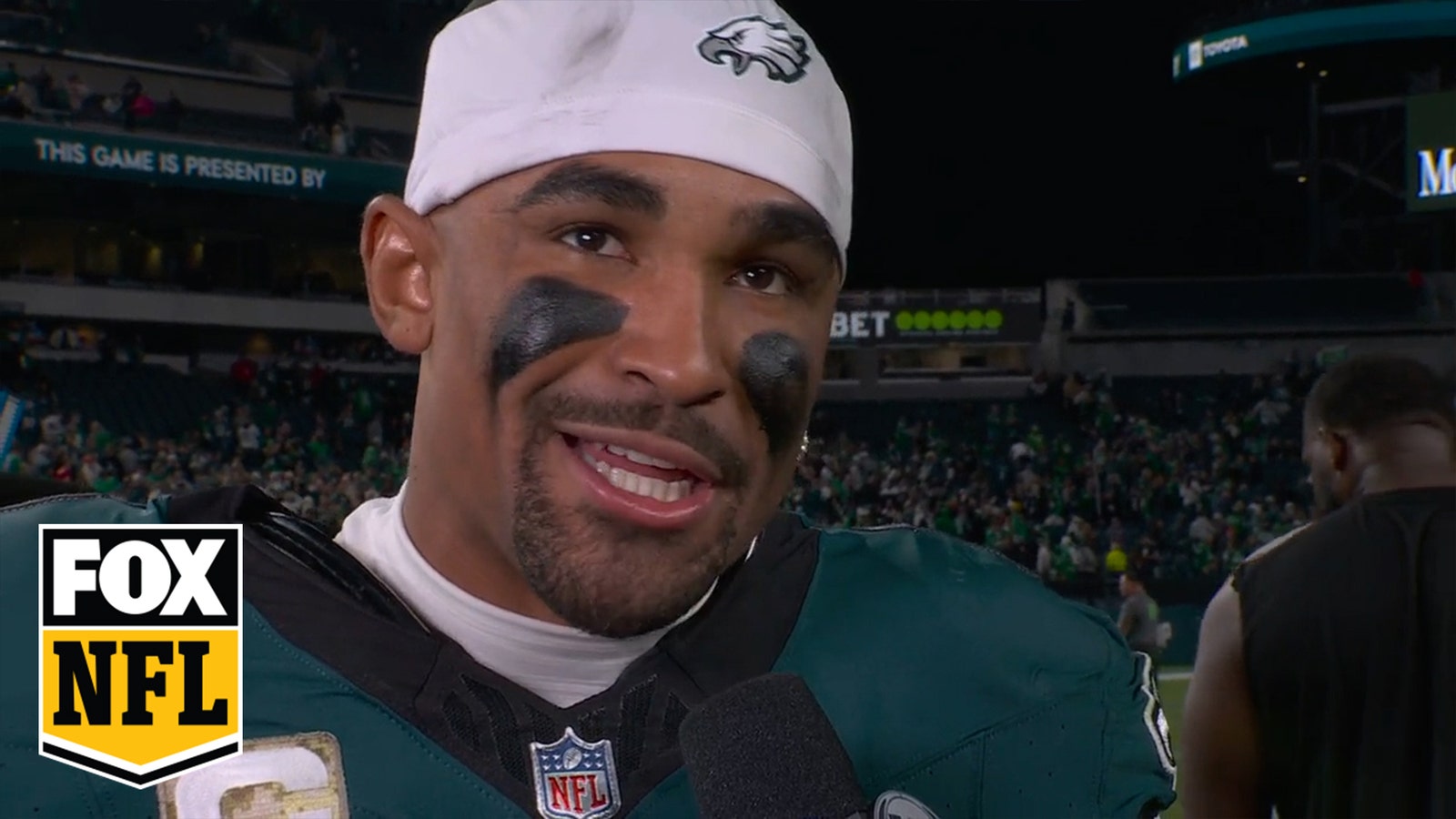 Comeback Player of the Year: Bills safety Damar Hamlin
McKenna: That he is alive is remarkable. That he dared to return to football is unbelievable. And that he has played in multiple games is cinematic. There will be players who have returned from injury to log statistics in the top 10 at their respective positions. That's typically where this award goes. But Hamlin's story is atypical. What he has accomplished is atypical. And while his story serves as a reminder of the violence and trauma this sport can cause, it is also a story of perseverance, dedication and love for the game. Hamlin should win this award, no matter what comes of the rest of the field.
Coach of the Year: Dolphins HC Mike McDaniel
Runner-up: Lions HC Dan Campbell
McKenna: The Dolphins are 6-3 and they lead the league in just about every offensive category. I get that Miami has key losses to the Bills, Eagles and Chiefs. That takes some bite off McDaniel's resume. But schematically, McDaniel is doing something special on offense. He has Tua Tagovailoa playing at an MVP level, and we see glimmers of his mediocrity during the big games. 
McDaniels is really helping elevate Tagovailoa's play — with help from Hill, who might be the most dangerous player in the NFL at any position (including, yes, quarterback). Miami's defense is only going to get better with their secondary finally looking healthy, headlined by cornerback Jalen Ramsey. It's likely that the defense improves through the course of the season under Vic Fangio. They already looked better against the Patriots and Chiefs. Give these Dolphins a little more time. They're already one of the most productive teams in NFL history. And they're going to start putting up numbers when it counts. It's only a matter of time.
What makes Tua & Mike McDaniel's offense so explosive?
Vitali: Find a team that's more fun and that has a bigger belief in themselves than the Detroit Lions. You likely can't — and that's directly due to Dan Campbell. I was in the locker room last season while Detroit was on their losing skid and it wasn't all that bad. Players were still joking around with each other, playing music, asking if I knew who Roddy Rich was (I did). You'd never know they were in the middle of starting their season 1-6. The Lions then went 8-2 in their final 10 games, beating the Green Bay Packers out of spite to finish the season. They came into 2023 with so much hype, so much momentum, that they'd be forgiven for faltering a bit. These are the Detroit Lions, after all. But they haven't. Campbell and his staff have taken the momentum from the end of last year and compounded it. 
Even when the Lions lost (badly) to the Baltimore Ravens in Week 7, they bounced back in a big way on Monday Night Football in Las Vegas and effectively broke the McDaniels-led Raiders. Detroit is also currently riding a four-game win streak on primetime dating back to last year, which is good for the longest such streak in franchise history. They show up in the biggest games and aren't afraid of the spotlight, while simultaneously not being affected by it either. That's Campbell's influence. If he can deliver a real-deal postseason run to Detroit, who hasn't won a playoff game since 1991, he'd deserve Coach of the Year and then some. Lions fans would make sure of it. 
NFC champion: Philadelphia Eagles
Runner-up: San Francisco 49ers, Dallas Cowboys, Detroit Lions
Helman: If you want to panic about the 49ers' three-game losing streak, be my guest. I'll be sitting over here, refusing to be a prisoner of the moment.
Of course, a losing streak is never a good thing. And every team in the NFL deals with injuries, so nobody wants to hear excuses about who the Niners are missing. Still, it's going to take much more to get me off the San Francisco bandwagon.
The defensive talent is still there. We know how good the 49ers defense can look, and it's worth remembering that defensive coordinator Steve Wilks is new to the team and still learning his personnel. Not that he needed it, but he's also got a fun new addition in Chase Young, who will hopefully elevate the pass rush to an even higher level.
And while Brock Purdy might be going through his first growing pains as an NFL quarterback, I think I actually feel better about him now than I did before the season. It's easy to be the quarterback of a team that can't stop winning, but I've been impressed by the way Purdy has handled himself in these losses. He's turned the ball over and the 49ers have fallen behind in games, but it hasn't stopped him from playing with the same confidence and aggressiveness we saw during the win streak. This is still a good offense, and both Deebo Samuel and Trent Williams are expected back sometime soon.
This time last year, the 49ers were 4-4. At the midpoint of 2021, they were 3-5. Both seasons ended in runs to the NFC Championship Game. With that in mind, I've got no problem believing they can do it again in 2023.
Jalen Hurts, Eagles edge out Cowboys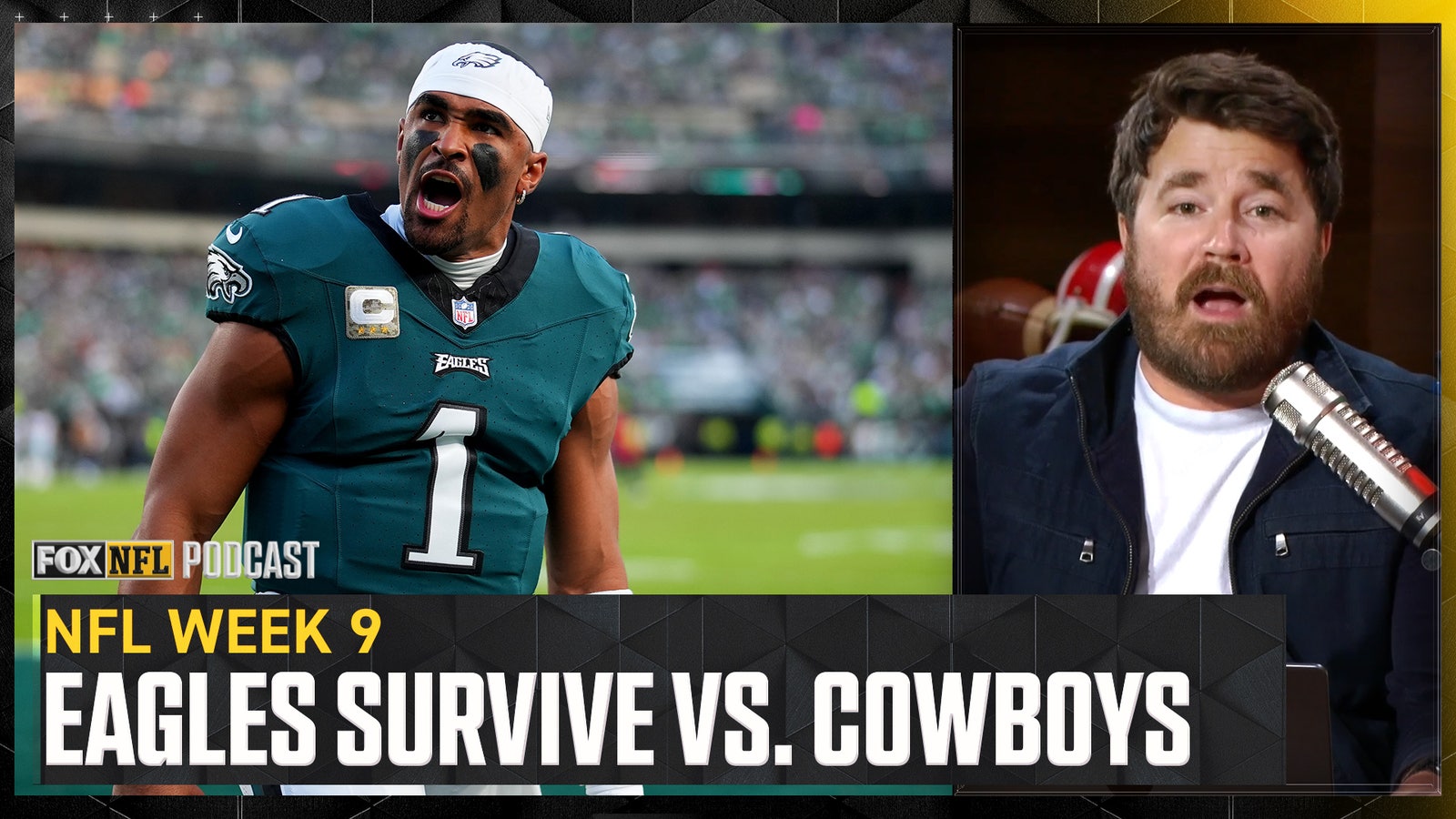 Vacchiano: This is the scary part about the Philadelphia Eagles: They are 8-1 and threatening to pull away in the NFC and they don't think they've played very well yet. Every game it seems they've struggled in some capacity. Their defense often isn't what it was last season. Their quarterback is clearly injured. And they're struggling to put away games.
And yet they are 8-1.
They're like the old Al Davis Raiders. They just win, baby. And they do it in every way imaginable. Some days, they do it with a heroic performance from quarterback Jalen Hurts and his record-setting receiver A.J. Brown. In some games, they just overpower teams with their running game and wear them down with their offensive line. Other times their defense steps up — though sometimes only in key moments, like in their win over the Cowboys on Sunday night.
But they just keep winning. They're better at that than any team in the NFC, where the contenders keep falling by the wayside. The Cowboys aren't done yet. The 49ers are still a worthy contender. And the Detroit Lions are an interesting, if untested, team. But none of them are deeper or more talented overall than the Eagles.
This team has gone 24-5 over the last two seasons, including the playoffs. They have won 25 of their last 27 regular season games with Hurts at quarterback. And they are 17-3 against NFC teams, including the playoffs, since the start of last season.
In many ways, picking them to win the NFC again feels easy. If they ever do play what they consider their best football, the race may not even be close.
AFC champion: Miami Dolphins
Runners-up: Jacksonville Jaguars
Greg Auman: Miami's loss to the Chiefs in Germany — including a 21-0 halftime deficit — makes it easy to point to their wins against lesser opponents and struggles against the NFL's elite. At 6-3, they would be the AFC's fourth seed if the playoffs started today, which means going on the road (where they're 2-3) instead of playing at home, where they're still unbeaten.
Their path to a Super Bowl is much easier if they can make up ground — they're only a game back (and a tiebreaker) of the top-seeded Chiefs. Their next six are easier fare, with the Raiders, Commanders and both Jets games, and for seeding, they need to stack wins now, because their final three games are vs. Cowboys, at Ravens, vs. Bills.
Defensively, they're just beginning to integrate perhaps their best player (Jalen Ramsey) into that side of the ball. Their offense isn't at record-breaking levels anymore, but they can build on secondary threats as defenses scheme more actively to contain Tyreek Hill. We don't know what kind of playoff coach Mike McDaniel will be, but a healthy Dolphins team in January might line up better with the AFC's best than they have so far.
Ben Arthur: After a slow start to the year, the Jaguars have become the team many thought they would grow into after an encouraging finish to 2022 when they won their final five regular-season games and mounted the third-largest comeback in playoff history to beat the Chargers in the AFC Wild Card. The Jags are the NFL's hottest team right now, riding a league-leading five-game winning streak. They haven't lost since September.
I think the scariest part about Jacksonville is that its offense hasn't even played to its full potential. The Jags may be 10th in the league in scoring, but they're 15th in total offense (they were 10th last year), 25th on third down, 27th on fourth down and 26th in the red zone. And this is a team in Year 2 of Doug Pederson's offense; with quarterback Trevor Lawrence in his third season surrounded by several playmakers (receivers Christian Kirk and Calvin Ridley; tight end Evan Engram; running back Travis Etienne). Veteran wideout Zay Jones, one of the team's top receivers, has also been banged up to start the year and could return to the lineup soon. The Jags added much-need interior offensive line help at the trade deadline in former Vikings guard Ezra Cleveland. It feels like the Jags' offense will inevitably figure it out. 
In the meantime, the Jaguars have an elite defense. Any pass rush deficiencies have been overshadowed by outside linebacker Josh Allen, who has been on a monster tear in his contract year, with nine sacks in just eight games. Darious Williams has been one of the best cornerbacks in the NFL this year. Jacksonville is tied for a league-high 18 takeaways and ranks ninth in scoring defense (19.5 points allowed/game).
If the defense maintains this pace and the offense begins to consistently play to its expectations, this is absolutely a team capable of a Super Bowl run. The Jaguars have some great tests coming up in two AFC South games, the 49ers, Bengals, Browns and Ravens in the next six weeks.
NFL Rankings: Trevor Lawrence leads Jaguars' rise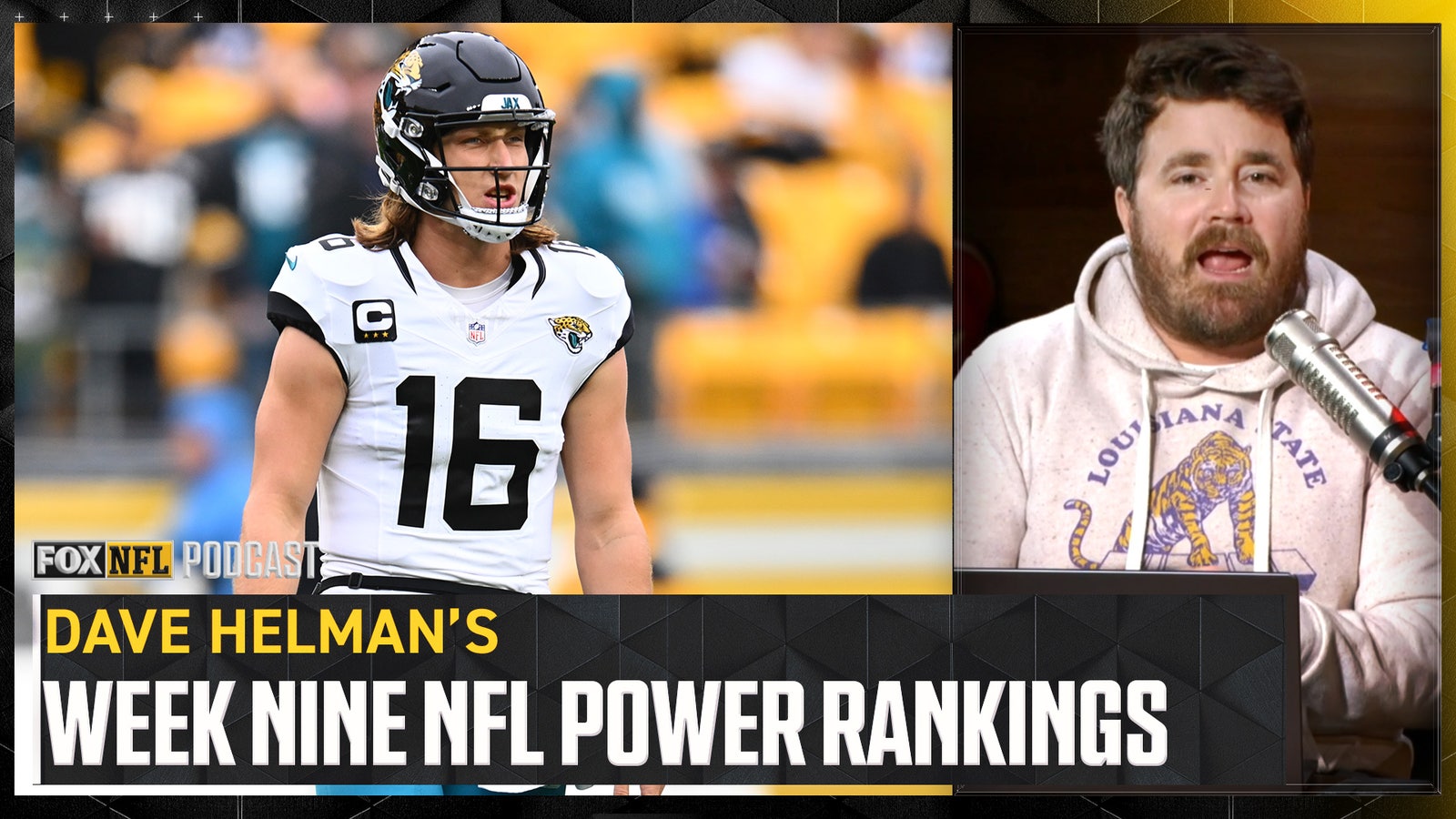 Super Bowl champions: Philadelphia Eagles
Runners-up: Miami Dolphins
Vacchiano: The Philadelphia Eagles were so close to winning it all last season. They were good enough to get it done. Very often when a team gets that close and fails to finish, they fall off a bit the next season. Either they can't find the strength or the motivation to carry them on another run, or their luck just finally runs out.
None of that seems to have happened with the Eagles, though, who have found a remarkable balance between being motivated by last season but not being consumed by it. They have a coach in Nick Sirianni who has pushed all the right buttons and a quarterback in Jalen Hurts who might be the most focused player in the NFL. Together, with a core of veterans who have made several Super Bowl runs together, they remain on a remarkably focused track.
Now, this team might not be as good as last year's was. The defense isn't quite as strong and the pass rush isn't as dangerous. And as good as Hurts has been, he's not quite at an MVP level this time – possibly because he's playing on an injured left knee.
So why believe that this time the Eagles will not only reach the Super Bowl, but win it? That faith has more to do with the competition. Look around and all you'll see are flawed contenders. The Eagles are the only team with armor that appears mostly intact. They just beat the Cowboys, maybe the second-best team in the NFC. They beat the Miami Dolphins, shutting down their record-setting offense. The AFC's best bet might still be the Kansas City Chiefs, and even they don't look as dangerous as they did when they beat the Eagles in Super Bowl LVII.
The Eagles remain the most versatile and adaptable team in football. They can beat any team in a variety of ways. They were that way last season, too, when they came up just short of their goal. They won't fall short again.
Jalen Hurts dominates in Eagles' 28-23 win over Cowboys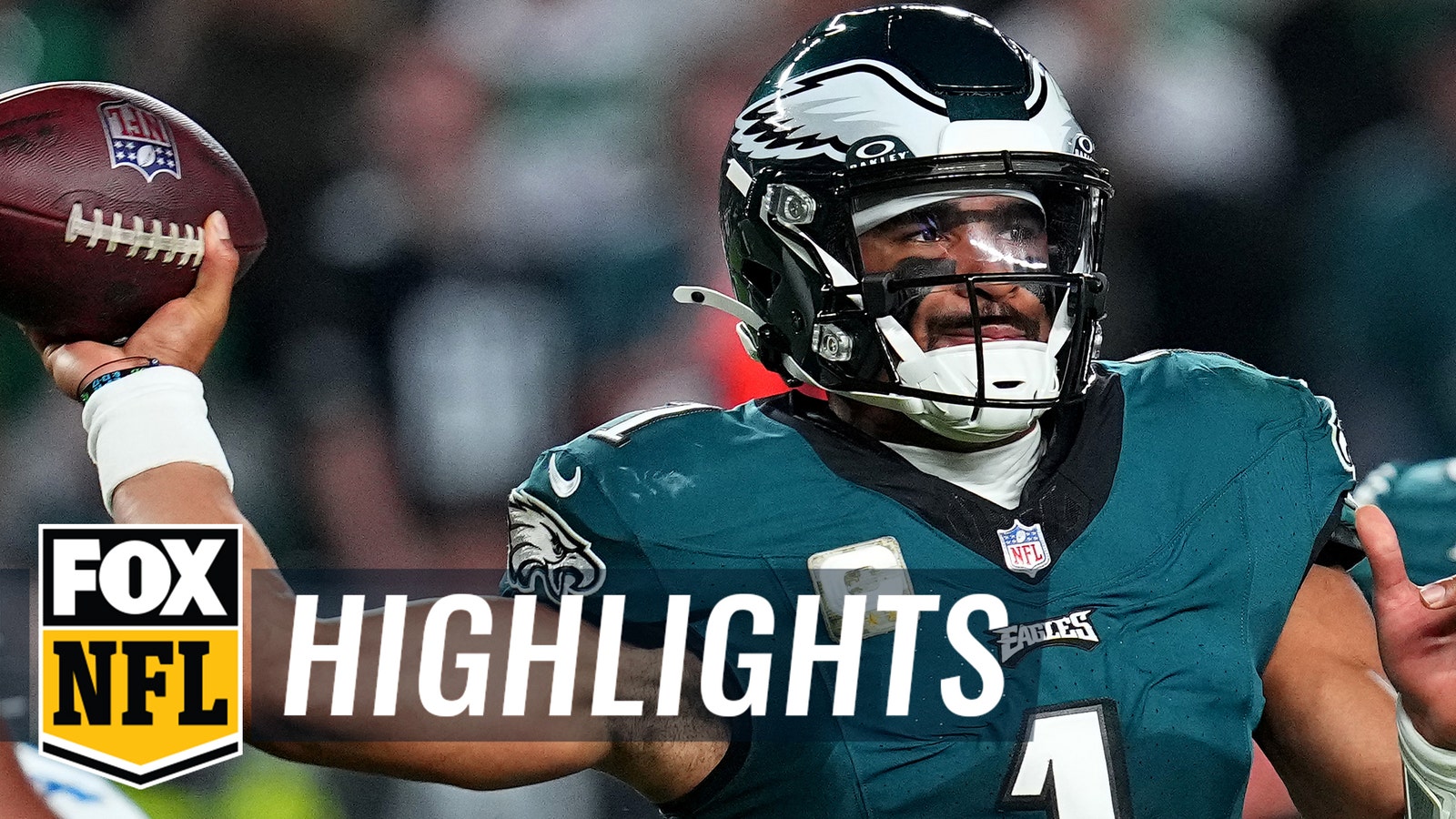 Vitali: I know the Dolphins just lost to the Kansas City Chiefs in Germany, but give credit where it's due: it was probably the most fun overseas game this season. Miami made a game of it in the second half once the jet lag wore off and we all remembered why they're such a fun team to watch. The Dolphins' only losses have come against contenders in the Eagles, Bills and now Chiefs, and sure, they're going to need to figure out how to win against these teams should they have these Super Bowl hopes. But we've seen the Dolphins evolve and bounce back after suffering these losses. 
Tua Tagovailoa looks like a different quarterback this year. He leads the league in yards, touchdowns and quarterback rating so far. He also has Tyreek Hill and Jaylen Waddle at his disposal. The Dolphins are continuing to get creative with their offensive backfield, too. Raheem Mostert has the most rushing touchdowns of any qualified rusher while also averaging a second-best 5.36 yards per carry so far this season. It means that Miami is averaging the most total yards per game in the NFL this season with 453.3. They have the top-ranked rushing offense, averaging 151.8 yards on the ground while also having the most prolific passing offense, averaging 301.5 yards per game through the air. They lead in yards gained in both per play, as well. The Dolphins are averaging 33.9 points per game — the only team with a figure over 30.
After their bye, Miami will play the Raiders, Commanders and Titans and have two games against the Jets. That should provide a cushion for their final three games against the Cowboys, Ravens and Bills again. The Dolphins are still very much in control in the AFC East with the Bills' loss to the Bengals on Sunday night and with McDaniel at the helm, should continue to ascend. 
This article was written by:
AFC South reporter Ben Arthur (@benyarthur)
NFC South reporter Greg Auman (@gregauman)
Dallas Cowboys reporter David Helman (@davidhelman_)
AFC East reporter Henry McKenna (@McKennAnalysis)
NFC West reporter Eric D. Williams (@eric_d_williams)
NFC East reporter Ralph Vacchiano (@RalphVacchiano)
NFC North reporter Carmen Vitali (@CarmieV)
---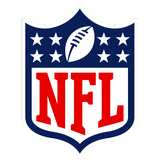 Get more from National Football League Follow your favorites to get information about games, news and more
---