John Fanta
College Basketball Broadcaster and Reporter
At the beginning of the evening, Jay-Z's "Empire State of Mind" blasted through Madison Square Garden and a sea of 10,000 people in red greeted St. John's head coach Rick Pitino in his return to MSG. 
With five minutes left in the game that proceeded, it was such a one-sided affair that chants of "Free Jim Harbaugh" rained down inside the building from the fans dressed in maize and blue. 
"We got absolutely dominated by them, and give them all the credit for it," said Pitino, whose team was given a reality check by a Michigan squad that showed Monday night why everybody and their mother outside of Ann Arbor was wrong about what this team would be. 
The Wolverines were projected to finish 11th in the Big Ten preseason media poll. They had not been picked to finish lower than sixth any time in the last decade, but after losing Hunter Dickinson, Kobe Bufkin and Jett Howard, and not reeling in Caleb Love, concerns were present. 
Put those concerns away. It's early, but Michigan looked every bit the part of an NCAA Tournament team on Monday night, destroying the Johnnies, 89-73. 
"Our mindset was that we wanted to come out here and make a statement, and that's what we did," Michigan guard Nimari Burnett said at the postgame press conference. 
Burnett – as associate head coach Phil Martelli explained postgame – allowed Michigan to settle into the game and finish the first half on an 11-3 run to take a 10-point advantage into the locker room. He started the game 8-for-8 from the floor, finishing with 21 points. And as good as the Alabama transfer was, he was not the best player on the floor in maize and blue. That's where we begin our takeaways from the opening night of the Gavitt Games. 
Nimari Burnett and Dug McDaniel both drop career highs in Michigan's 89-73 win vs. St. John's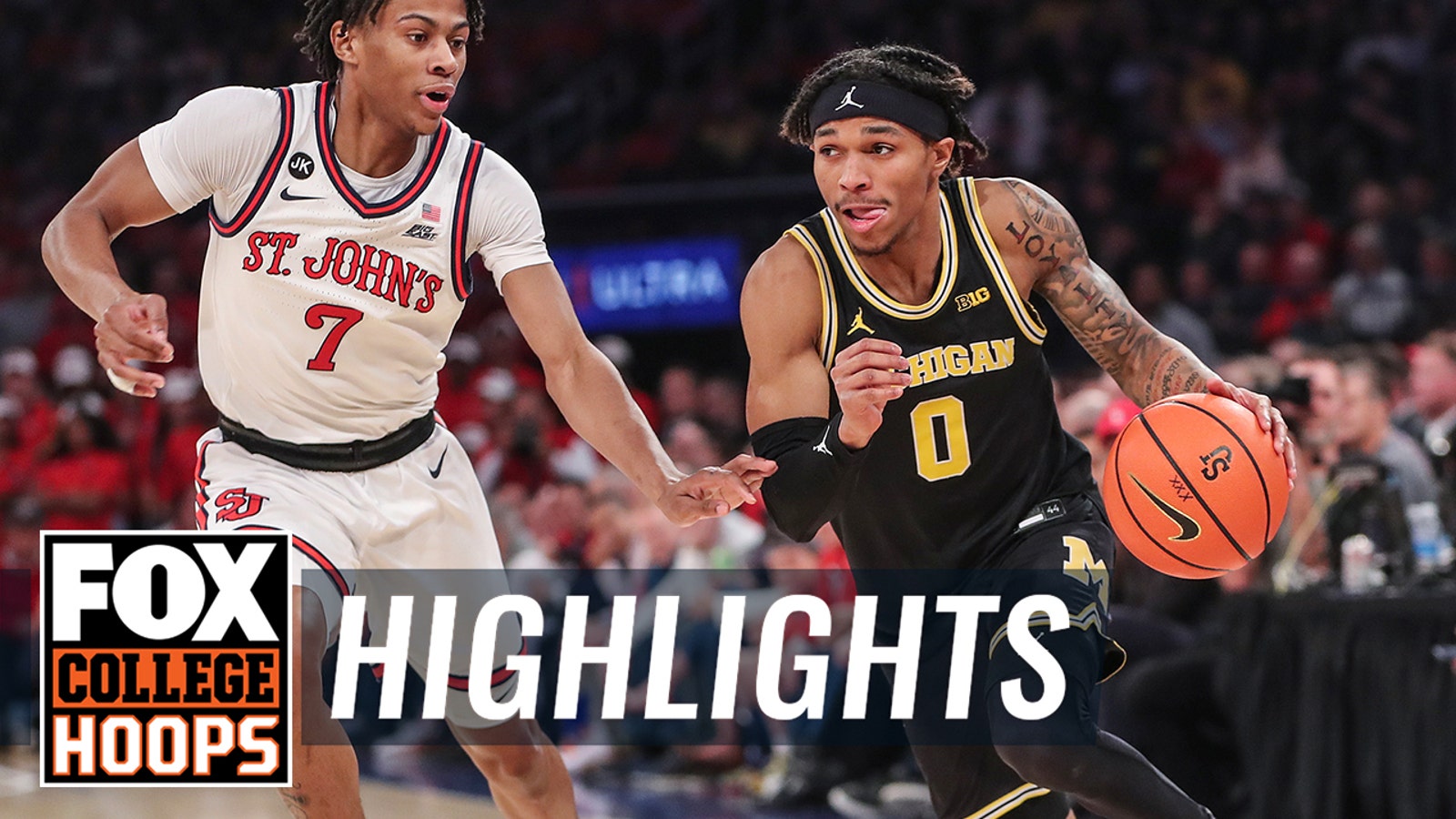 Dug McBuckets? McDaniels shines in New York City 
The 5-foot-11 sophomore guard, who had a solid freshman season and was projected to be the guy who had to make a leap for Michigan to be successful this season, has been better than anyone could have expected. 
McDaniel put on a master class Monday night with a career-high 26 points, seven assists and six rebounds in the win. 
"Coach Phil (Martelli) said it to us before the game, that we're playing to see people's backs," McDaniel told FOX Sports. "When that clock strikes zero, they're turning around and walking out (with a loss). It's fun being the underdog. Coming out here and proving people wrong every night, that's what we live for." 
McDaniel, whose mother Dawn was in the stands at The Garden, said it was a blessing to perform inside MSG the way he did. 
Pitino, who said he expected Michigan to be strong after he heard the Wolverines beat Big East preseason favorite Marquette in a closed exhibition, admitted to being surprised at how his team "got dominated" by McDaniel on Monday night.
Michigan has one of the best guards in the Big Ten, and the way he set the table for the Wolverines to shoot 55% from the floor in the game was very impressive. 
Pitino sounds off postgame, criticizing offense and frontcourt depth 
It's early in the season, so let's not overreact too much to one night. But the facts are the facts: Preseason prognostications, myself included, overestimated the Red Storm. Does it mean that it's time to panic? Come on. That would be premature. We'll see how St. John's fares in a critical Charleston Classic opener on Thursday against North Texas. 
As far as the state of this team, though, it was surprising to hear Pitino rip his offense more than his defense. Now, the Hall of Famer stated all preseason that the defense was a long way from where he wanted it to be, and that was the case on Monday, but he felt the Johnnies played way too much one-on-one offense. 
"Our offense shocked the s— out of me," Pitino said. "I'm shocked that fifth-year guys were doing it, playing one-on-one basketball." 
[Pitino Chronicles, Episode 1: A coaching legend returns to Madison Square Garden]
The backcourt duo of Daniss Jenkins and Jordan Dingle shot a combined 8-for-22 from the floor. But Pitino was even more critical of the frontcourt, stating that this St. John's team has no depth in that area. 
He tried to play Chris Ledlum through mistakes, but the Harvard transfer who had 16 points and 13 rebounds in the opener, shot 1-for-7 and was a -21 in 26 minutes of action. 
"He played a lot poorer than his talents tonight," Pitino said. 
The point: Pitino said this team had a long way to go in the preseason. Sometimes, that comes off as coach speak. It was not that, but the disappointment on Monday was how, as he said, his players didn't play team basketball. 
The bigger point: Transfer portal splashes don't mean as much as roster continuity from last season, particularly this time of year. Four of Michigan's top six contributors on Monday night were returnees. St. John's roster of 14 new players looked disjointed and significantly outmatched. 
After playing North Texas Thursday in Charleston, the Red Storm will face Atlantic 10-favorite Dayton or LSU on Friday. It's a manageable bracket that could lead to them meeting No. 6 Houston on Sunday in the final. 
St. John's Jordan Dingle slams a two-handed dunk to trim Michigan's lead to two points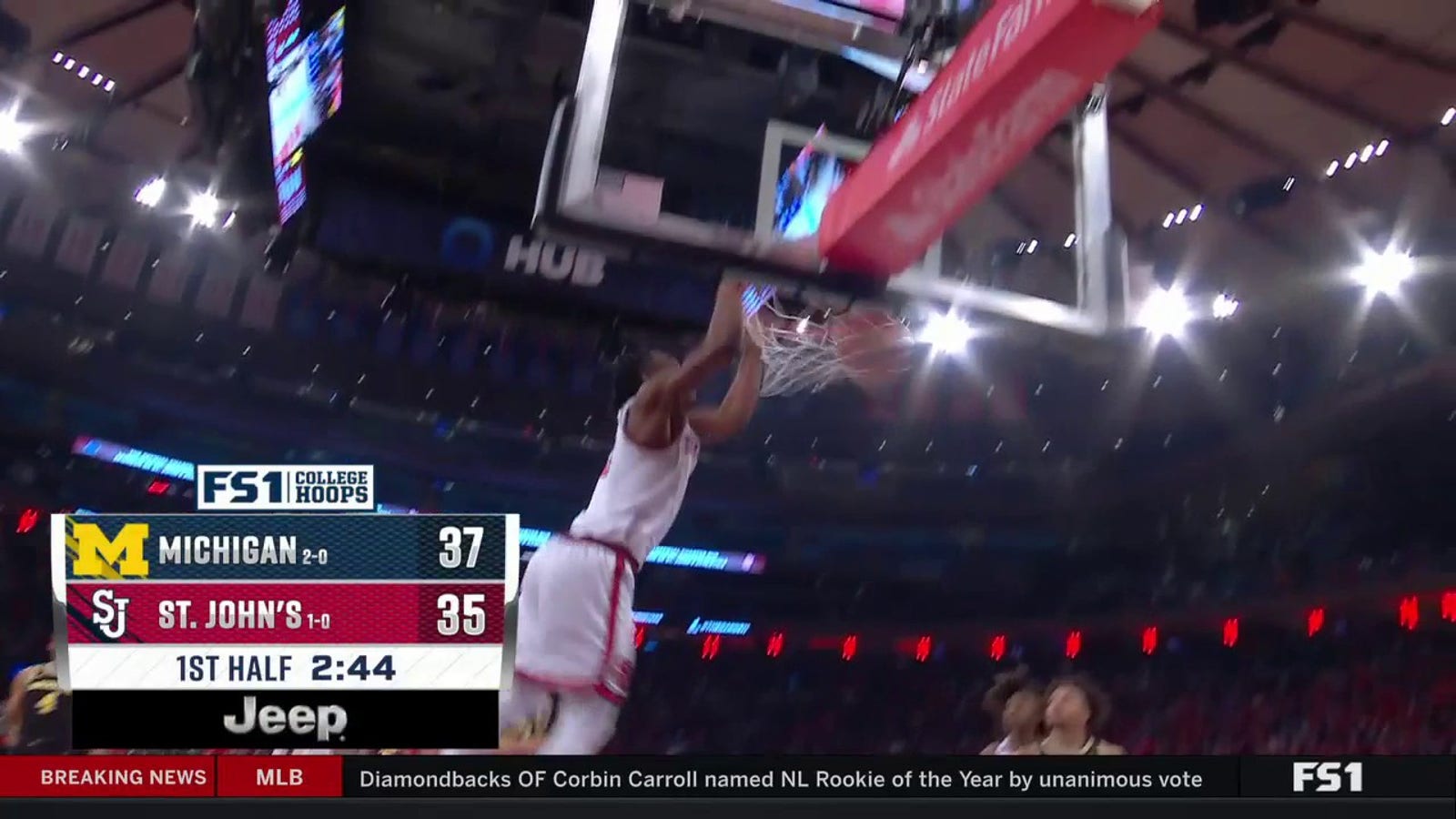 Zach Edey dominated and Braden Smith set up everything perfectly in Purdue's win over Xavier 
The reigning national player of the year did to the Musketeers what he's done to so many other opponents, going for 28 points and 11 rebounds in the Boilermakers' 83-71 victory over Xavier. 
Here's something that we don't talk about enough with Edey …
He makes his free throws! 
Edey shot 10-of-11 from the line in Purdue's victory on Monday night, showing that you can't bank on hacking him like you can with other dominant big men.
Edey dominating this game seemed like a given for Purdue, particularly against a Xavier team that lost starting frontcourt stars Zach Freemantle and Jerome Hunter for the year due to injuries and is without freshman Lazar Djokovic (finger). Abou Ousmane did all he could, but it wasn't enough. 
The question surrounding the Boilers and how far they go in March isn't the best player in college basketball. It's what happens on the perimeter around him. 
Braden Smith is setting up everything perfectly, going for seven assists on Monday to raise his total to 25 through three games. The sophomore shot 6-for-11 from the floor, finishing with 12 points and six rebounds in the win.
Purdue also shot well from downtown on Monday, hitting 7-of-15 from beyond the arc. Four-star freshman Myles Colvin was a revelation, going 3-for-3 from downtown. With Fletcher Loyer also in double-figures with 11 points and impact transfer Lance Jones supplying eight points and five assists, it was a balanced performance on the perimeter to support Edey. 
It was the type of balanced performance that explains why the Boilermakers are ranked No. 2 in the country. 
Myles Colvin drains a timely 3-pointer to help Purdue grab momentum heading into halftime against Xavier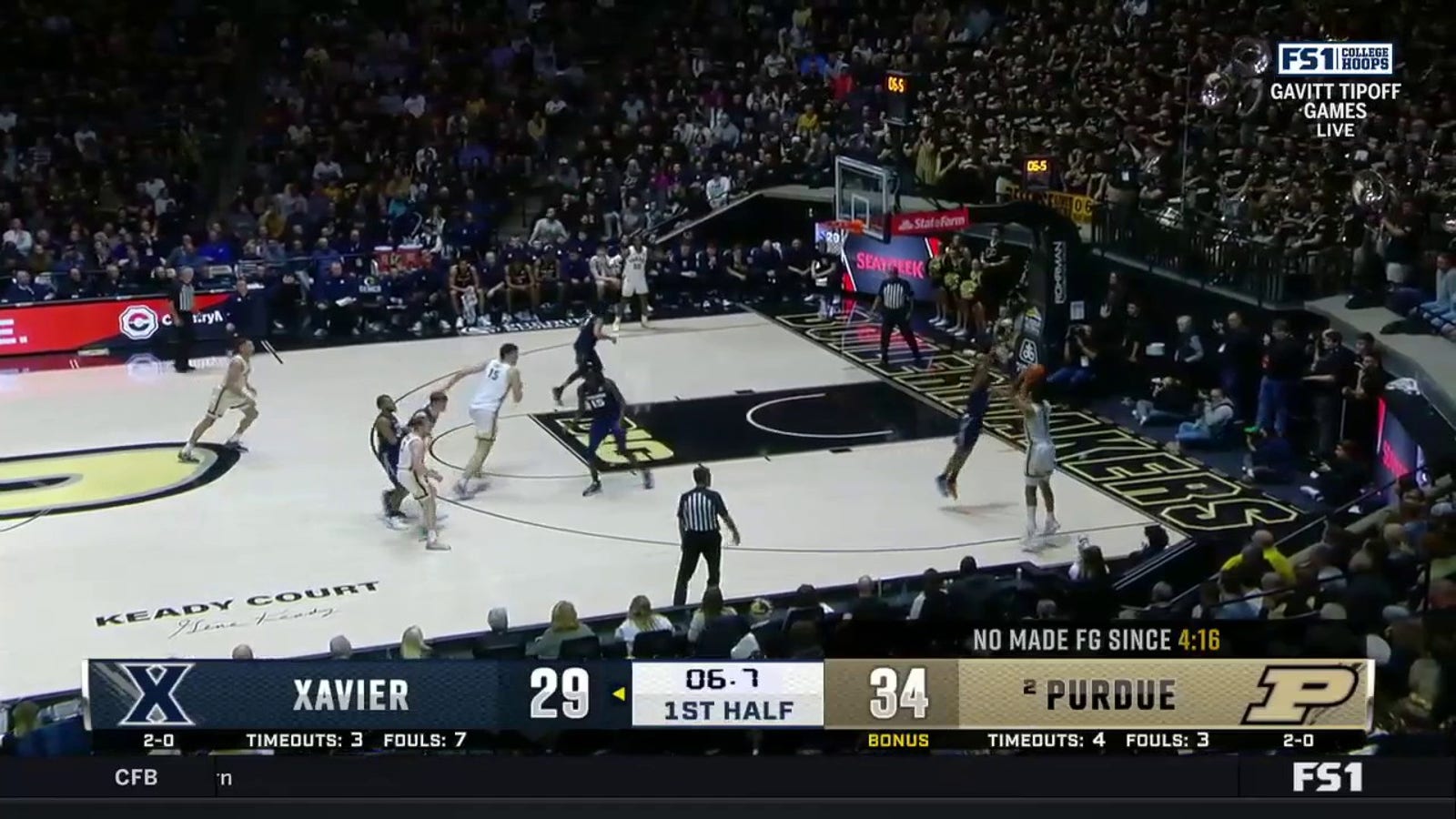 Tuesday's Gavitt Tipoff Games Schedule:
6 p.m. ET – Wisconsin at Providence (FS1)
8 p.m. ET – No. 4 Marquette at No. 23 Illinois (FS1)
10 p.m. ET – Iowa at No. 8 Creighton (FS1)
John Fanta is a national college basketball broadcaster and writer for FOX Sports. He covers the sport in a variety of capacities, from calling games on FS1 to serving as lead host on the BIG EAST Digital Network to providing commentary on The Field of 68 Media Network. Follow him on Twitter @John_Fanta.
FOLLOW
Follow your favorites to personalize your FOX Sports experience
---
COLLEGE BASKETBALL trending
---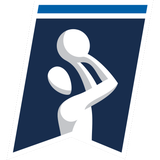 Get more from College Basketball Follow your favorites to get information about games, news and more
---